Click here Ray's story in largest newspaper in Ohio.
Wish you had a shorter URL address, then click here to go to www.shortURL.com. AND IT'S FREE!
Click on HOME above to get back to the main business page and the Free Zones of offers or Click Back or here to go to Ray's Topical art and the top 20, 200 and 500 free sites link.
GET FREE SILVER DOLLARS , BOOKS ETC WITH BUYS - Collect vintage computer products that grow in value plus get free extra bundled deals with buys.
http://www.tapsearch.com/free-collectible-deals/
Help support our Free Services and Advocacy for local economies.
Collect rare vintage computer products that grow
in value plus get extra free bundles of collectibles
Let the world know who you art and what you do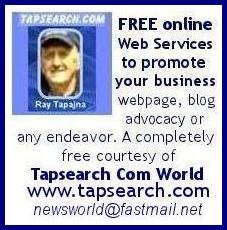 Endless free ways to promote your sites, blogs, business etc.
-
Ray Tapajna's main gallery - Art that Talks, Healing Art, Flowers for You and Collectible Sports Art is at
http://ray-tapajna.artistwebsites.com New stories about his art at
Ray Tapajna Info Net

VIA PAYPAL..

Tell the World about it :

Ray's Flower for You that Last Forever artwork is available as metal art, prints, acrylic, on canvas, as framed picture and as greeting cards. Makes a perfect gift that can be cherished for a lifetime.

Add your message, post, blog, ad, link etc on our Tapsearch Com Network below and it will be seen automatically on 100s of webpages across our network. ( No adult sites - all posts are subject to deletion if improper. )



-

Editor: All spam messages are deleted

Our Profile Page at Angies List

-- Ray Tapajna tapsearch@fastmail.net

-